Hello everyone. I went to gamescom2014, the biggest game show in Europe, which was held in Cologne, Germany. It was my first gamescom, and my first time in Europe, so I'm going to talk a little bit about what I saw. -R.I., Motion Designer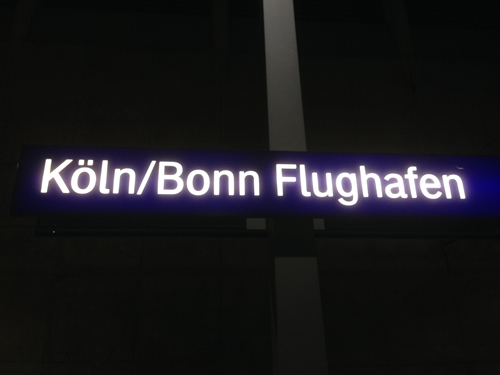 I took the above picture when I arrived in Köln Bonn Airport.
The ö letter appears a lot in Europe.
If you don't look up your destinations in English or German before going, you'll have trouble buying a ticket.
After this, I went to Cologne Central Station, the closest station to the hotel where I was staying.
In German, this station's name is Köln Hauptbahnhof, and it's often abbreviated as Köln hbf.
Do you see where I'm going with this?
When I did my travel prep, I only ever saw the abbreviated name, so when I bought my ticket, I unconsciously ignored the Köln Hauptbahnhof name that appeared on screen.
Please be careful of this if you ever go to Germany.
Although I had some trouble buying a ticket, I managed to get on the train and headed for the central station.
When I got to the station, the first thing that jumped out at me was the Cologne Cathedral.
I thought it was almost too good that I could see the cathedral after taking only a single step out from the station.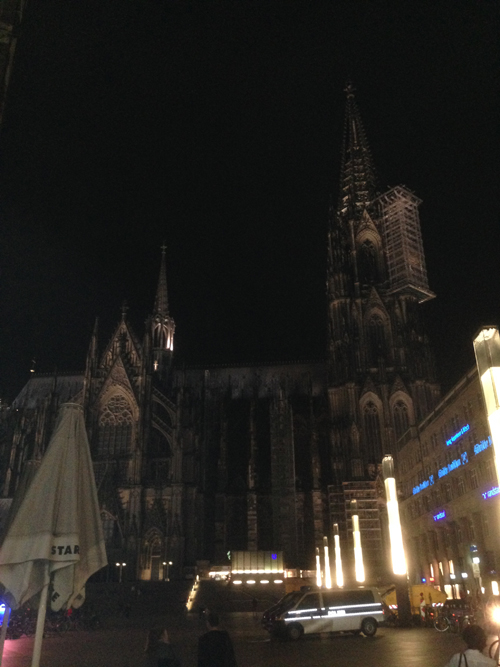 On this day, I awoke to the Cologne Cathedral bells.
What a luxurious alarm clock!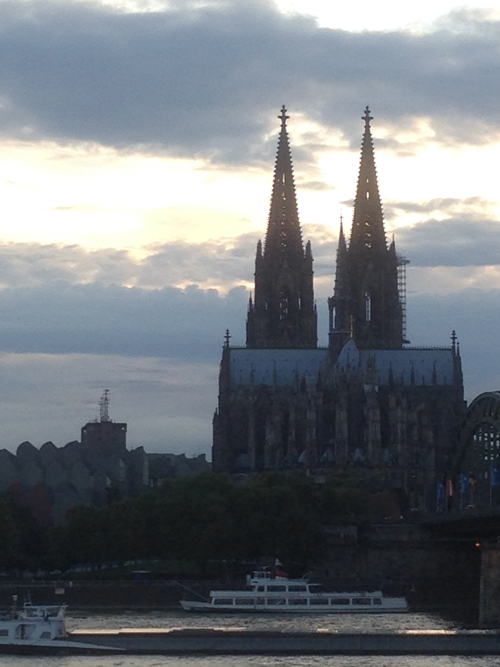 I ate a delicious breakfast at the hotel, then headed to the event.
After feeling the train rattle for a few minutes, I arrived at the event area.
First, I took a shot of the logo!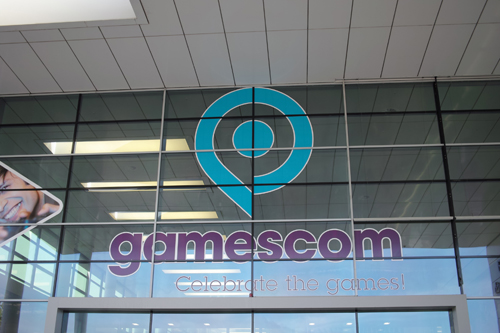 There were a lot of people outside the entrance.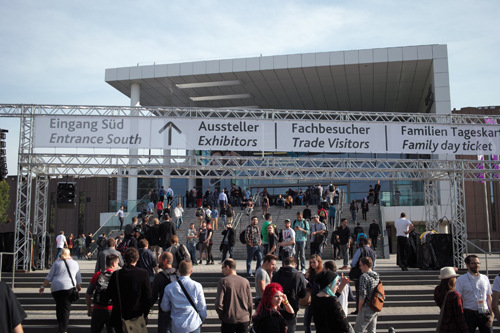 There were a ton of people inside, and lines of people waiting in front of popular booths.
The event space was separated into different sections, but even in a single section, there was still this big of a crowd.

I think this especially relaxed atmosphere is one of gamescom's unique characteristics.

They even had a spot where they massaged people who had gotten tired from moving around so much.

I definitely saw things that I couldn't see at other game shows.






Here, people can not only just play games, but watch new game trailers and check out playable demo booths.
Being able to play the game is the best, but lots of games that are still in development have to go with playable demos.
Even if you can't actually play them, you can still take a look at the graphics and listen to the explanations that describe the gameplay.
I could also really feel how people were enjoying more than just the games, with objects and cosplaying.

This was my first gamescom, and unlike other game shows, they had manga, anime, and music-related events going on in other spaces at the same time.
It really felt like the entire country was enjoying the event, which made it a very significant experience.
Afterwards, I visited several booths and then left the area.
I also visited Cologne, the city in which gamescom was held, so I'd like to talk about that as well. First, we have the Cologne Cathedral, which I hadn't visited yet, even though it was so close to my hotel.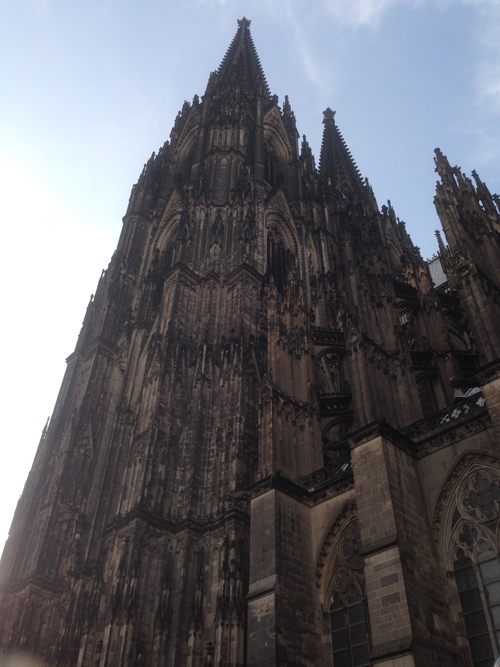 I arrived in Cologne at night, but I took a picture of the cathedral during the day.
It's interesting how different it looks at night.
The outer decorations are very detailed and interesting to look at.
You can tell it's really tall from the outside, so naturally, the inside is very spacious, with a high ceiling.
It was surrounded with stained glass decorations, and felt very spiritual.
After the cathedral, I went to a restaurant to get some food.
Cologne is known for its beer, sausages, french fries, and delicious food.
Here's a glass of Kölsch beer, Cologne's specialty beer, in a unique slim glass.
It wasn't very bitter, so it was very easy to drink.
I don't usually like beer, but I kept drinking this during my sightseeing.
There were many different kinds of sausages, and I thought their sizes and tastes were both great. I was surprised by how many french fries I got as a side order.
| | | |
| --- | --- | --- |
| |     | |
I also went sightseeing in Zons, so I'll talk about that here.
Zons is a town surrounded by a fortified wall.
I wondered what a country town surrounded by a wall would be like, so I rode the train to Dormagen, where Zons is.
After getting off the train, I had to get on a bus, but I didn't know where the bus stop was, so I asked someone near the station for directions.
I could use English at the hotel, but outside of the hotel, people only understood German.
(I guess I should have expected that, but...)
So I used a smartphone translation application that I had prepared before I left Japan, and told the person that I was looking for the bus stop.
The person answered me in German, but I didn't understand, so they used body language to direct me to the bus stop.
Thank you so much! I got on the bus, then got off at a bus stop near Zons. After a five minute walk, I arrived at Zons.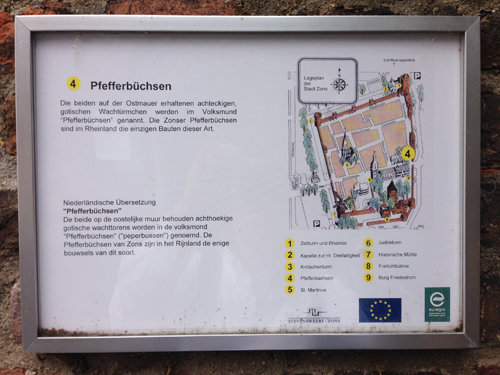 This simple map shows that the town really is surrounded by a wall.
Apparently it had rained before I arrived, so there weren't many people on the streets, which made it good for taking pictures.
I was in a lot of metropolitan areas during this trip, so I got really excited when I came to Zons.
The entire town had a real fantasy atmosphere to it. The post (?) boxes on the doors were also very stylish and unique.
Since it was surrounded by a wall, there were also gates, as well as passageways that I wasn't sure whether I was allowed to go down or not.
It really felt more like an adventure than sightseeing.
It was a bit unfortunate that the weather was so bad, but I still got to experience a German town that had a very different atmosphere from Cologne.
The restaurant that I stopped inside to get out of the rain had a very nice atmosphere, and the food was delicious.
This year, gamescom saw 335,000 participants.
Apparently, they even made an entry limit to reduce congestion, which meant that there were less participants than the previous year.
It was still as passionate as ever, though, and really felt like the entire country was enjoying the event.
A lot of hardware that had been waiting in the wings was released, along with new games.
What I thought was amazing last year was eclipsed by what I saw this year, which really surprised me, and reinforced in my mind just how far the industry has come.
It was a very meaningful experience for me.
That ends my report.
I'm going to use this experience as fuel for my development, so that I can hopefully deliver to you all the best game possible.