2015.06.16
Electronic Entertainment Expo 2015
Hello! I'm HF, a designer (we're called artists in the USA)!
I went to check out E3 again this year.
E3 is where cutting-edge games from all around the world come to be surveyed. It's also a huge game show where new devices are displayed for people on the business side.
It's meant for business people, but the atmosphere of the event, and the scope of the conferences that different companies put on during the event are broadcasted to the media in real time, so gamers can also enjoy it.
GI, the director of DMC4SE also came with me.
During the development, we formed both wheels of the project, and sometimes fought and sometimes drank together as we worked hard to outdo one another. The preparations... should have been easy, but perhaps since we were so relieved that the project was over, we packed at the very last minute and rushed to the airport.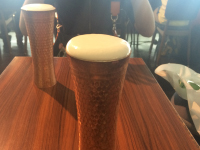 We still had enough time after check-in to grab some beers, though. No matter how busy we get, this is one thing we can't do without!
■PlayStation® E3 EXPERIENCE 2015 Press Conference
After the roughly 11 hour flight, we arrived safely in LA. At this point, our raging schedule rush began.
After arriving, we checked in at the hotel and got started on our busy schedule.
In five hours, we had arrived at the PlayStation® E3 EXPERIENCE 2015 Press Conference hall.
The event was held at the Los Angeles Memorial Coliseum, where it was last year. This location was also the home of the Los Angeles Olympics in 1984.It's a super, super famous place!
It's also a prestigious arena used by the WWE, the NBA, and the NHL.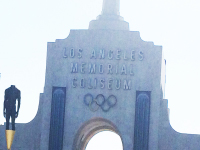 The Olympic rings! Carl Lewis... wait, did I just reveal my age? (LOL)
We arrived at the coliseum without any trouble, and were able to find seats in the front where we could sit and wait for it to begin.
At the front stage, there was a big screen split up into three, allowing people to easily see the game footage from anywhere in the arena.
You could tell that they've been doing this for many years now, so they've thought long and hard about all sorts of details, which sort of moved me.
| | |
| --- | --- |
| So exciting!! | There were so many people, we had to fight to find seats. |
This year, there were a ton of featured titles that were stimulating from both a developer and a player's perspective, so I can remember how the applause and the cheers just never stopped. I think about 90% of the people in the audience were from the business side, but you could tell that they all loved games, so I felt a sense of unity.
This stimulating experience went on for about 90 minutes, but by the time it ended, it felt like it had all gone by in the blink of an eye.
It really was a meaningful conference that made me even more interested in the future of Playstation.
I'll be working hard every day to make sure Access Games can join Playstation in that future, so get excited!
After that, we finally arrived at E3, at the Los Angeles Convention Center. In front of the hall, we saw a huge sign.
There was nothing but excitement in our minds now.
| | |
| --- | --- |
| I can't wait to go in! I want to play some games!! | |
In the entrance to the hall was a car from a famous movie! Whoa! This sort of stuff really makes things exciting. Did they borrow it from the studios?
■Inside the E3 Event Hall(West Hall Arc)
Now, time for our exciting E3 Hall (West Hall Arc) report!
In the West Hall, big hardware manufacturers such as Microsoft, SCEA, and Nintendo were all gathered together.
A huge XBOX sign!! The ceiling and the lights were all painted in their official color. Seems like Microsoft won't be bringing a booth to TGS this year, so we'll have to enjoy it enough for two events here.
In front of the SCEA booth was the PS4 and Project Morpheus!
Then, we arrived at the Nintendo booth, where they were celebrating Mario's 30-year anniversary! (I made sure to get a 30-year anniversary badge!)
Nintendo had announced some huge titles during their streamed conference, so this booth was really busy.
The bright lighting matched perfectly with their image of never constraining their titles to a certain age range.
Compared to other booths, the Nintendo booth had a lot of female visitors, so we could really feel the breadth of their target zone!!
At the Oculus booth, the Oculus Touch was announced, along with other big announcements regarding their other new experiments and new things that had become possible with the Oculus. From a designer's perspective, we can't wait to use it and make things with it.
■Inside the E3 Event Hall(South Hall Arc)
Now, we'll talk about what went on in the South Hall.
This hall wasn't filled with hardware makers, but rather software makers.
| | |
| --- | --- |
| The hall, shot from above. | SO many people in here! |
All the companies had a long list of exciting titles displayed! I'm glad we decided which games we were going to play beforehand, because there were a ton of people in there...
Then...
At the Capcom booth, we found Devil May Cry 4: Special Edition, which Access Games developed!
The DMC trailer was one of the first things they broadcasted on the huge screen!
We were moved...

Here's how the DMC4SE playable booths looked.
All the DMC4 fans were super good at the game.
Thank you for playing!
DMC4SE runs at 1080p and the textures are high quality! It can also be played at 60FPS just like the previous game, and has a lot of other special features.
At Access Games, we put a lot of love into every 3D action game we make.
For more details, check it out here!
At the hall, the people who played the game said stuff like:
"That was great!"
"Awesome cutscenes!"
"I can't wait to get it!"
They never stopped talking about it, and we were really happy we could hear so many comments from fans about the game.
There are many different joys to creating games, but actually seeing your game come out at a game show like this and hearing opinions directly from the users is a big one.
This ends our E3 Hall report.
It seems like the amount of visitors this year was 520,000, even more than last year's 400,000. It was a huge event!
Now, as a special bonus report, we'll talk about what we saw outside of LA. (This may actually be longer than the main part.)
We rarely get a chance to travel this far, so all the time outside of our trip to the E3 hall was "study time." We had come this far, so we wanted to see all we could!
What? We didn't just come here for R&R?
Of course we did!
But that's also a type of studying for us.
We wanted to get ideas that we could use in our next game, along with real American scenes that we could never see in Japan.
This was a rare chance for us to get stuff like that!
Still, half the time, we were simply enjoying ourselves. (LOL)
It's important for people to play seriously once in a while.
And so, without further ado, we begin our Outside of LA trip report!
It was close to the hotel, and we both wanted to go and see it, so we decided to make the trip.
It really was close! It only took about 3 minutes by car... We arrived in no time.
We should have just walked... we thought, as we entered the building.
The building itself is very old. It was built in 1893 and was used in a very famous movie starring Harrison Ford.
Many locations in Los Angeles were used in Ridley Scott's Blade Runner, but this is one of the most famous.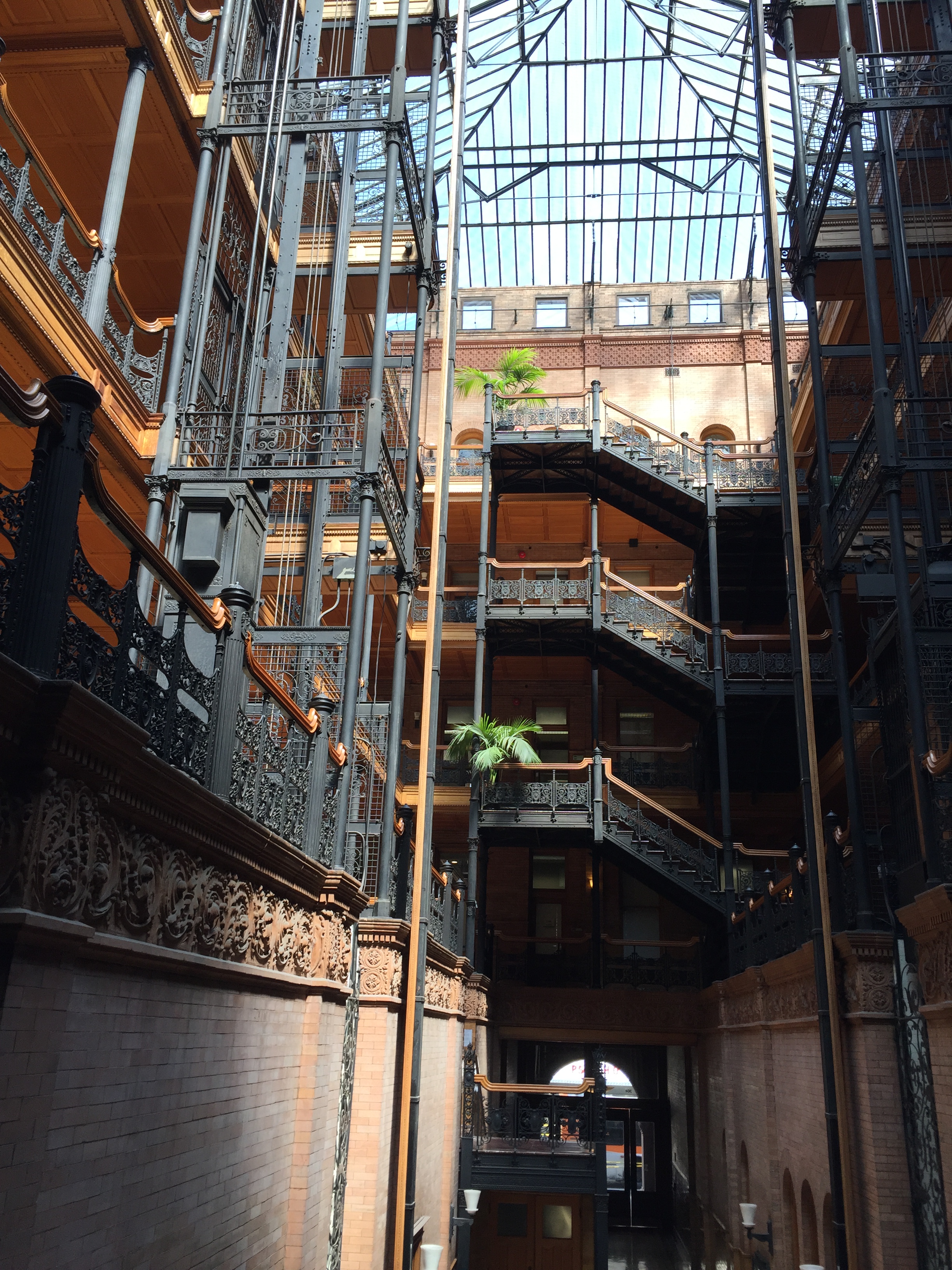 The detailed art deco architecture was fabulous.
It was filled with antique equipment, such as an old fire extinguisher.
I work mainly on background design, so for me, it was a very important piece of research data.
Art deco... is beautiful. (Excited)

An old fire extinguisher.

It isn't used anymore, so there's a modern one below it on the right.

A very open ceiling.
Next, we went to the La Brea Tar Pits.
It took 30 minutes by car, during which we passed by many churches and went through Korea Town.
This is a famous sightseeing locale that features a fossil museum and natural tar pits.
| | | |
| --- | --- | --- |
| Since it was a weekday, it was being used by a school on a field trip. (LOL) | The museum was mainly filled with mammal fossils. | There were also models on display. |
Inside the museum we saw saber tigers, dire wolves, and mammoths, all fossilized animals that would excite anyone. It seemed to be a very useful museum that allows people to study ancient animals from models as well as skeletons.
Apparently all the fossils here were pulled up from the tar pits.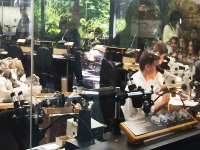 We also got a chance to see people researching.
The tar pits themselves were outside of the museum in the park, so we went there next.
Since they're dangerous, they were surrounded by a fence that prohibited entry.
Apparently birds and small animals still get stuck in them now and again.
We saw lots of spots in the lake and in the grassy area of the park where tar was spurting out.
Was there tar below the grass where we were standing as well? It was scary just to think about...
| | |
| --- | --- |
| There was an elephant stuck in the tar pit! (It's a model.) | Tar spurting out! |
How could you come to LA without going here?This is a famous observatory on a faraway mountain, close to the Hollywood sign.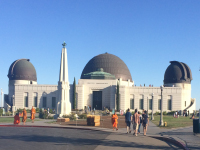 This building appears in a certain game called GT*!
This allowed us to see how closely they replicated it.
That wasn't our goal, though. We wanted to look at the city of LA from this high spot, look at the architecture of the observatory, and see the setting of a game that we'd both played. At the end, we were looking at it completely from a gamer's perspective. (LOL)

Architecturally, the beautiful art deco architecture of the observatory and the ability to see the entire city from it was truly wonderful.

I had heard that it was a famous CA sightseeing spot, but my trip there affirmed it. LA looked beautiful from the observatory, and we could see all kinds of different places. We could gradually see the beautiful landscape getting smaller and smaller in the distance, which felt great.

Since it was such a famous sightseeing spot, other Japanese and Asian tourists, as well as monks in orange stoles had come to check it out.
I got a mission here once. (LOL)

The landscape. I saw this in the game too...
(I know, I know. LOL)

The garden was beautiful too.
■Joshua Tree National Park
Finally, we arrived at the main dish to our Outside LA trip, our final destination: Joshua Tree National Park.
It took us 3 hours to get there.
Our friend in LA, who acted as both our driver and our translator, gave us some important advice.
1. The National Park has no shops inside it, so you need to bring food and water with you.
2. The heat can give some people heatstroke, so you need to bring food and keep your calories up, along with your water intake.
3. You must absolutely not drop a cigarette. It's very dry, so it could cause a fire.
Of course, since there were no convenience stores anywhere around, we ate a little beforehand, then bought some water and departed!
We zoomed straight down the highway.
Along the way, we saw an Indian casino run by Native Americans, which was a rare sight for us. We also saw many car transporters, which we rarely see in Japan.
As expected from America, the automobile society!
| | |
| --- | --- |
| We also saw a super long freight train! | The wind was strong, so we saw a ton of wind power generators along the highway. |
After driving for two hours, even though it usually never rains in California...
Suddenly, we saw dark clouds gathering!




H-Huh?




But those yellow clouds...




I'm getting a bad feeling...


W-wait, those aren't clouds... Smoke?


It was smoke that had appeared from a far-off mountain.
Apparently it was a mountain fire! What bad timing!!




The yellow clouds kept spreading out toward the direction where we were heading!




This is really scary!! I want to go home, but my LA friend says it's completely normal and keeps driving straight ahead! Really!?


But when we got close to Joshua Tree National Park... As you can see...
| | | |
| --- | --- | --- |
| It was only noon, but it looked as yellow as evening. | Who put that weird post-effect on this!? | A red sun beyond the yellow clouds! |
As the mountain fire colored the clouds, we saw it continuing on for miles and miles!
Awww! It was too bad we couldn't see the usually blue sky in the national park, but at least we did get to see something rare.
| | | |
| --- | --- | --- |
| It was a quiet, spacious area. | The roads were paved, so we could drive along them fine. | A spacious desert with rocky hills! |
We stopped every now and then to take pictures as we continued our journey.
We had to get going, though, or else we wouldn't be able to get through this area, which is 1.5 times the size of Tokyo, so gradually we continued, and our eyes got used to the smoke from the mountain fire.
Then, we arrived at the famous Key Views, which is the place where you can see the landscape from the highest point in the park!
| | | |
| --- | --- | --- |
| It's a famous spot, so there were a lot of cars parked. | The view from this spot was even more spacious. | I took this at the edge of the cliff. Don't push me! (LOL)        Don't push me! Whatever you do, don't push me! (LOL) |
It's hard to tell from the photos, unfortunately, but the view from this spot was truly incredible.
Such spacious geography... My designer soul immediately wanted to try and create it!
The space just sucked me in. This is what a landscape truly is! I ended up feeling embarrassed that I hadn't understood it thus far. But when I realized that I could use this in the next game I create, I was overcome with joy.
Next, we moved to find the famous Arch Rock.
Along the way, we found a strange-looking rock, so we decided to rest there.
SKULL ROCK。
SKULL ROCK. I was waiting to hear a creepy voice. (LOL)

The Joshua Trees, which the park is named after, are like a mixture between a cactus and a tree.




Joshua Trees and the wasteland. The Joshua Trees never got dense, and just popped up here and there.
Next, we arrived at White Tank, the home of the Arch Rock.
It used to be on the guide map, but for some reason, it had disappeared from the modern guide map we received.
Where the heck was it!? We ended up spending about 15 minutes wandering around staring at the countless rocky hills...

There it is!!

As our friend racked his memory, since he had apparently found it once before, we finally reached it!
Since there were nothing but rocks around us, there'd be no way for us to find it normally. It was like it was camouflaged by the other rocks.
The same can be said for the entire park, but it looked as if the rain and wind had gradually eroded the surface of the mountains away, leaving nothing but skeletons.
| | | |
| --- | --- | --- |
| Rocks, ROCKS, ROOOOOOOCKS | It was hiding deep among the rocks (LOL) | There it is. How do people find this normally? |
We really saw a lot at Joshua Tree national Park. Beautiful natural landscapes, untouched, unadulterated nature... Thank you, America, for maintaining this national park!

As our watches ticked toward the night, we started to feel sentimental, like we didn't want to really leave, but had no choice but to put the park behind us.
(Of course, by the time we left, we had forgotten all about the mountain fire.)
How did you like our E3 2015 report?
Last year, our company's original game, D4: Dark Dreams Don't Die was featured at the event, and this year, it was Devil May Cry 4: Special Edition, which we did a lot of development work on. For two years straight, titles our company has developed were featured at the world's biggest game show, which is truly an honor.

And how to sum up our experience sightseeing in America?
We were able to speak with many different kinds of people from different cultures, including other developers, and felt the movements of the game industry up close and personal.
We saw world-famous locations that we had only seen in videos up until now, and felt how small we were in the face of nature.
Reading books and researching things on the internet isn't enough to make something good.
We hope to use these experiences to make another great title!
Look forward to our report next year!
That concludes our report! -HF and GI