Hello everyone!
I'm Imaoka, a CG designer!
CEDEC 2015 was held from 8/26/15 to 8/28/15.
Again, this year, we at Access Games were able to attend as speakers. We gave not one, but two speeches!
Both speeches concerned D4: Dark Dreams Don't Die, which has already gone on sale.
---
What is D4: Dark Dreams Don't Die?

D4 was released on 9/19/14 exclusively for Xbox One.
It has an intriguing story filled with interesting characters, and along with a unique graphical engine that we developed ourselves, it can be controlled with gestures using the Xbox One's Kinect, allowing the player to feel like they're actually in the game.
This 'sensory replication' syncs up the player with the main character and allows for a deeper level of immersion.
On 6/5/15, it was released on the PC with special updates and the ability to play using the mouse, which allows the player to experience 'sensory replication' without the Kinect.
---
CEDEC always takes place at Pacifico Yokohama.

| | | |
| --- | --- | --- |
| We all arrived! Time to enter the event hall! | | A close-up of the sign. We were all excited to take the podium here! |
Once we entered the event hall, we took our passes and hall sponsor logo tote bags and went into the speaker waiting room.
There were other speakers in there, and they all looked very serious. But of course! They were all preparing to give speeches!
First we calmed down and reviewed the content of our speeches. This both Okamoto and Mori's first trip to CEDEC, so we made sure to be very thorough in our meeting.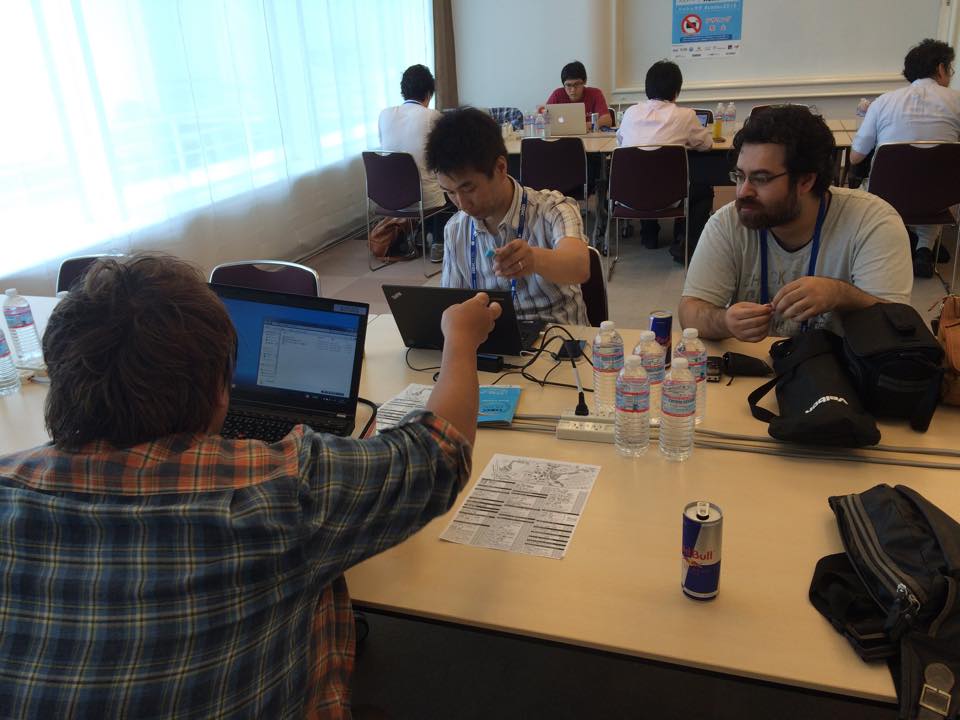 From the front, Mori, Okamoto, and myself.


The first speech was Okamoto's "5 ways to create memorable characters for the player," which began at 1:30 pm.
We've upload the slides that were used in the speech, so please check them out.
If you want to learn a few new ways to create memorable characters, then I'm sure it'll be of help to you!
5 ways to create memorable characters for the player

If it feels like it may be useless, you should put as many details into your characters that you can, then just try your best to think up a good build and outward appearance.
Fashion ends up making a character's first impression, so think up different possibilities and choose wisely!
Thinking up different memorable poses and lines can also bring out a character's personality.
That's what the speech talked about.
---
Next, at 4:30 pm, Mori's "How to Create a Development Team that Doesn't Lose its Focus" speech began.
It was filled with ways to keep a team running smoothly, so for any team leader, I think the slides are a must-read!
You can view them from the link below.
How to Create a Development Team that Doesn't Lose its Focus
-Methods for Sharing Concepts within a Team-

For projects that continue on for several years, motivation tends to dwindle, and it's hard to keep information shared, which can create a lot of problems.
I took part in the development for this project too, and experienced numerous problems.
Are we getting off track with our goals? Is everyone still motivated?
It's important to take a consensus for problems like these, so that everyone can develop while facing in the same direction.
The speech also talked about part of how we managed the D4 project itself, so if you're having your own project problems, please check it out.
---
Lots of people attended both sessions, and about half of them had to stand and listen since all the seats were taken up!
| | | |
| --- | --- | --- |
| The speech room before anyone arrived. In the right picture, you can see what it looked like after everyone arrived! | | There were a ton of people who couldn't sit! Thank you all very much!! |
It seemed like there were a lot more participants this year, and the sessions' content felt very robust.
Business people were also displaying their products in their own booths, so it was a pretty busy event.
I hope that we at Access Games were also able to do some PR about our own products through our speeches.
We're going to work hard to keep creating great games so that we can give more speeches next year, so please keep cheering us on!
That concludes our CEDEC 2015 speech report.