2015.09.17
TOKYO GAME SHOW 2015
Hello everyone.
This report is brought to you by Y.W., a gamesdesigner, and Y.Y., an artist at Access Games.

This report covers the Tokyo Game Show 2015, which was held over a period of 4 days, from 9/17 (Thurs) to 9/20 (Sunday).

This year, there were a lot of social game booths in addition to the usual console game booths, and a lot of VR-related hardware and software were also being displayed. For these reasons, I think it might have been the biggest TGS ever.
We attended the first Business Day on 9/17 (Thurs.), but it was actually the first time that either of us had attended a game show like TGS. Excited to play the latest games, we stepped inside and started looking around.
| | |
| --- | --- |
| Unfortunately, it rained this year. | The lines were super long this year too! |
The moment we stepped into the event hall, we saw huge monitors and fantastic-looking objects. We could see how much work everyone had put into their booths.
Glancing around at everything we could, we headed toward the booths we were most excited about!
| | | |
| --- | --- | --- |
| Once we stepped inside the hall, we could feel the heat from everyone inside! | There was a huge tank over here! | And there was a huge monster over there! Just looking around was fun! |
There were a lot of different areas, such as one for console games, one for social games, and one for VR games.
There were also some booths that seemed to have nothing to do with games, but one glance was all it took to get us interested in all of them!
Some of the best parts of TGS are the booths where you can play the latest games!
There were a ton of games that had yet to go on sale, so it was the perfect chance for us to check out the titles we're most looking forward to.
We tried a few different games too, but the one that stuck out to us the most was a shooting game based on a certain movie.
They passed out numbered tickets, so we were easily able to get inside, but once we did, we were passed through a small room. It felt like we were at an amusement park.
That was really something that you can only experience at TGS!



| | |
| --- | --- |
| Here was a huge play booth where 40 people could play together at once! | Of course, in order to play a game, you first had to wait in a really long line... |
Just like every other year, there were a ton of people at the event this year, so they had digital signs set up where you could check how congested certain game lines were.
They also released an app that you could use to check on the wait time for certain booths. Even though it was really crowded, they did their best to make things comfortable!

This year's big highlight had to be VR!
Lately, VR has been making waves in the press, so there was a lot on display this year. Aside from a huge booth, there were also hardware maker booths and small booths featuring VR software and VR peripherals.

We headed to the hall with the hopes of playing PlayStation VR, but because it was Business Day, only the press people were allowed to play it. It also turned out that the actual hardware was on display, so we just had to stare at the display and imagine playing it at home.

It will take a while before VR becomes a reality, but some VR peripherals have already gone on sale, and some others are going on sale a lot sooner than we thought. The day when VR games become a normal thing may not be far off.
We bet that VR will continue to change how games are played in the years to come... It's so exciting!
| | |
| --- | --- |
| This aerodynamic design really feels futuristic! | This is a peripheral that you can put on your finger in order to link it to VR. |
In the past several years, social games have really been picking up steam, and we saw a lot of them at TGS.
A lot of the big places devoted their entire booths to one title, and we saw posters advertising them at the nearest station.
Instead of new games, they seemed to be advertising their hits and their most representative games, so it felt more like an advertisement/promotion event.
| | | |
| --- | --- | --- |
| A huge, imposing balloon! | A monitor that was over 3 times the height of a human! | There was even an airship! |
Some social games had released quests that could only be played in the TGS Event Hall.
The social game booths were filled with a different heat than that which we had felt in the console booths.
For the two of us, who had come to TGS for the first time ever, it was the perfect chance to see just how social games had risen to stand shoulder to shoulder with console games.

With every year, TGS sees more and more booths from non-Japanese entities, but this year, they finally outnumbered the Japanese ones.

In the hall, we saw a lot of famous non-Japanese companies, and there were a lot of non-Japanese attendees as well. It looks like they're all interested in TGS as well.

This year, the hall was bigger, so the scale of TGS is getting bigger and bigger. They're really working hard to make sure other countries don't leave them in the dust. Even though it's the TOKYO Game Show, it's really starting to earn its own international presence.

That concludes our TGS report. However... This isn't the end of the entire report!
On 9/19 (Sat.), we gathered in a hotel room near the Makuhari Messe, where TGS was held.
Why? To do a livestream for D4: Dark Dreams Don't Die -Season 1-!
It's been one year now since D4 was released for the Xbox One, on 9/19!
To commemorate this, SWERY and Dogma Kazami put on a D4 1-Year Anniversary Special Broadcast.
Last year in September, D4 was released to the world, and then came out on PC in June of this year. After that, we released several DLC packs, and it's hard for the staff to believe that one year has already passed.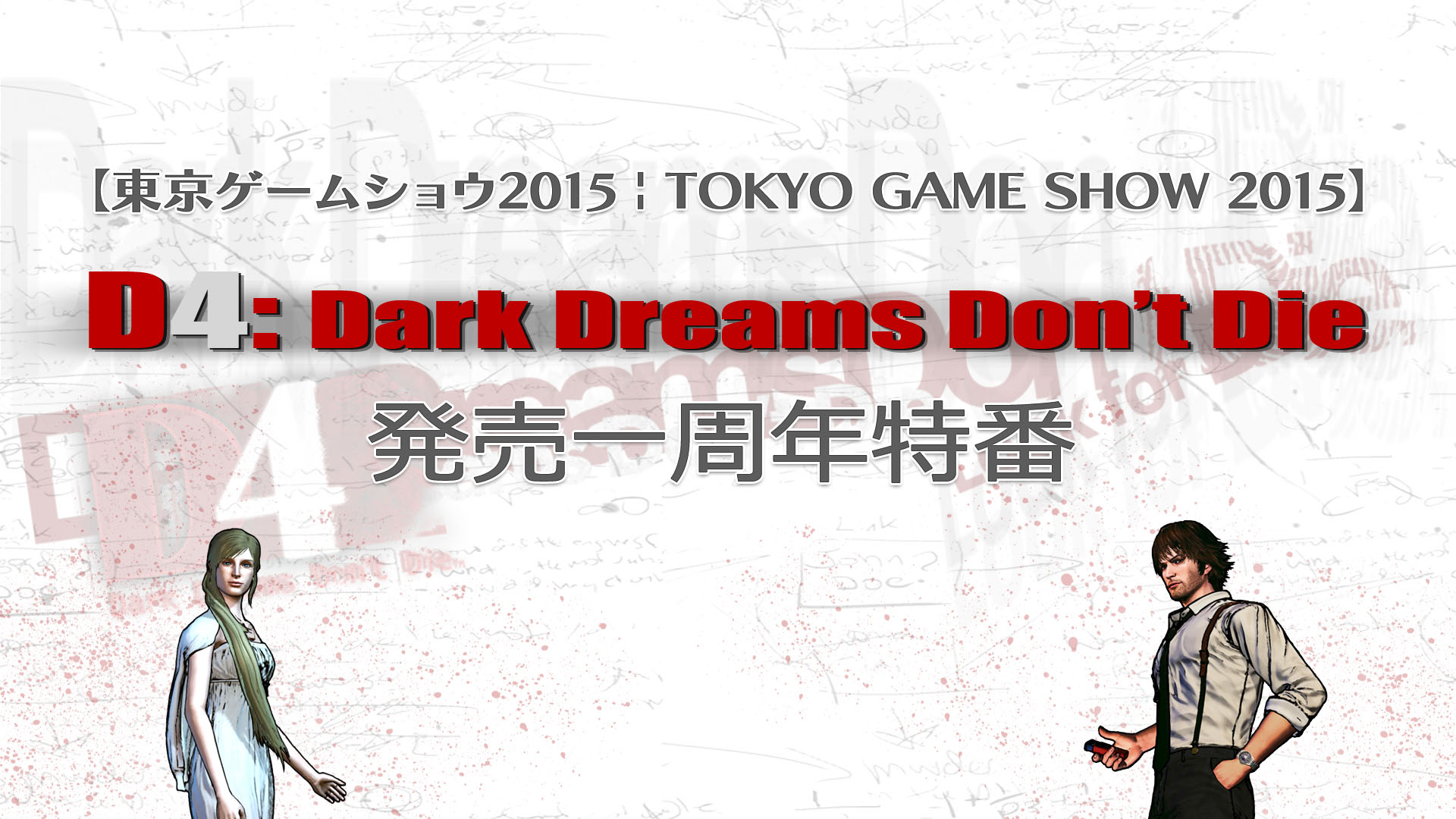 On 9/19, D4 turned 1 year old.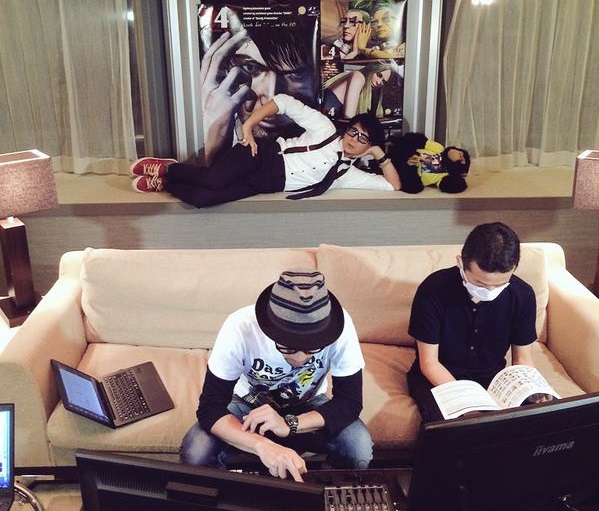 Preparations for the livestream. Why is he doing a Buddha pose in the background!?
Since this was the 1-year anniversary of D4, we showed off video letters from people who had streamed D4 in the past and also played through the D4 game using the released DLC.
Fans also sent us D4 images to cheer the game on, as well as other things. Because of time issues, we couldn't present everything we received, which we really felt bad about! A big thanks goes out to everyone who sent an image or illustration in!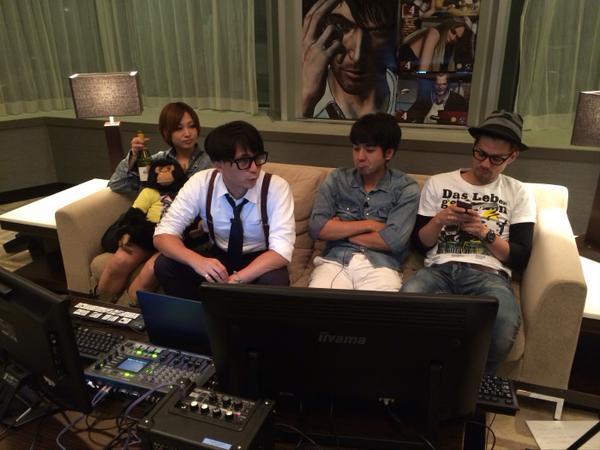 From the left: Akira Kusaka, a livestreamer, SWERY, director of D4, Shota Nakama from the VGO, and Dogma Kazami, a livestreamer.
Everyone relaxed on the sofa during the stream.
We also had Akira Kusaka, another livestreamer, appear on the show as a guest, as well as Shota Nakama from the Video Game Orchestra,
Takamasa Shiba, a producer at Square Enix, Kosuke, another livestreamer, Yoshiyuki Hirai, a Japanese comedian, and Chris Pruett from Oculus VR.
It was quite the cast, and their conversations were a lot of fun to listen to!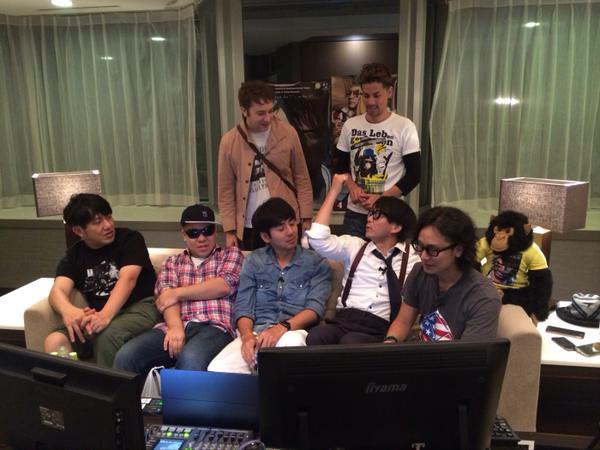 From the left: Yoshiyuki Hirai, Kosuke (livestreamer)
Right side: Takamasa Shiba,
back left: Chris Pruett
The two of us helped out as preparation staff for the livestream. Setting up the materials and preparing the stream was a valuable experience that we would have never been able to get in the development room.
We hope to do more livestreams in the future to show everyone the charm of D4 and Access Games!



Well, how did you like our TGS 2015 report?
The day we spent at the hall went so fast, but we enjoyed it as much as we could!
It was filled with extravagant booths featuring unreleased games, and everywhere you looked, it was fun fun fun!
Just the experience of going there taught us more than we expected, like about what the current trends were, and what different companies were focusing on.
This year, the VR-related booths seemed really exciting. It's like a dream come true, and the entire industry has its eyes on what's going to come next.
The Playstaton VR is the first VR peripheral for a game console, so that's really drawn a lot of attention, and the Oculus Rift booth was so popular that they ran out of line-up tickets 20 minutes after they opened, so we didn't even get to experience it.
It's too bad, but we're very curious to see how the sales of these peripherals influence the industry and the market. This was the biggest TGS hall yet, and the 2nd biggest year for attendance, with over 50% of all booths being from non-Japanese entities.
It looks like TGS, the biggest game event in Japan, is just going to keep getting bigger and bigger!
We also took part in the D4 1-year anniversary livestream, which let us experience some things that were much different from what we're used to in the development rooms. It really inspired us to keep working hard.
A lot of TGS booths were also streaming gameplay and developer conversations, so it seems like people are getting interested in alternative ways to provide content.
We were able to read listeners' comments as the livestream was running, which taught us a lot about this new type of service.
We now feel like we can do a lot more than what were able to before, so we hope to utilize it with Access Games to create a ton of fun new experiences! We hope you're excited!
That ends our report. Please look forward to our next one!