2015.04.07
AG EVENT 2015 The OHANAMI 04.07
Hello everyone!♪
This is the Access Games Event Committee.
It's that time of year again... That's right! Cherry blossom viewing season!
Unfortunately, we had to do it indoors last year, so we really wanted to make sure we got outside this year!
On the day of the event, the weather said it would be cloudy... but we still got to go outside!
The event ended up being so much fun that we forgot all about the clouds, so we've decided to write a little about it for everyone.

April 17, 2015 (Tues) 2:30 pm - Osaka Castle Park BBQ Zone
| | |
| --- | --- |
| It's not really spring until you see the flowers blooming! | |
| | |
| --- | --- |
| Here's where we held the event! Osaka Castle Park! And when you say Osaka Castle Park, that can only mean one thing... | |
BBQ TIME!
We decided to hold the event in the afternoon, just like last year.
Since all of the AG employees love meat, we had to hurry up and make sure everything was set up just right!
It rained a lot the previous day, so some of the committee members were worried about whether or not
the rain had knocked off all the flowers, but they were all still in full bloom!

We hired professionals to set up the grills and tents.
Thank you very much!
April 7, 2015 (Tues) 4 pm - Osaka Castle Park BBQ Zone -
2015 Cherry Blossom Viewing Event Begins!
As we were finishing our preparations for the meat and drinks, the other AG members started to appear!
| | | |
| --- | --- | --- |
| AG members enjoying the flowers and letting off some steam from all their busy days of hard work. | Lots of AG members instantly took out their cameras and began taking photos of the flowers. | |
| | | |
| --- | --- | --- |
| Some AG members camped out around the grills, waiting for the meat to get cooked! It's almost done, you guys! Just wait a little bit longer! | Deep in the back, some AG members played catch as a way to work up big appetites! | |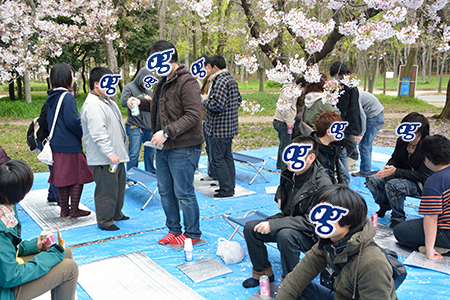 With drinks in hand, everyone looked like they were itching to take a swig! Time to make a toast!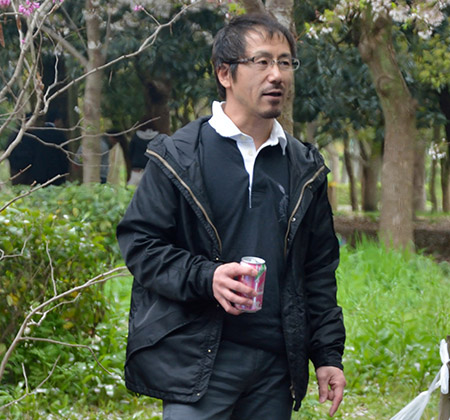 This year, Executive Director Kakuwa led the toast!
| | | |
| --- | --- | --- |
| Cheeeeers! | Cheeeeers! | |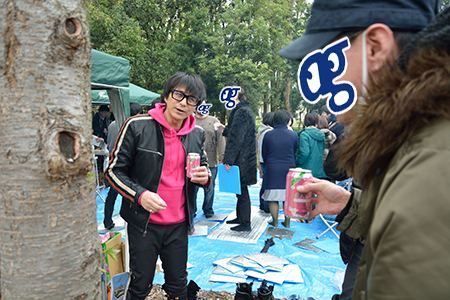 SWERY joined in on the toast too!
| | | |
| --- | --- | --- |
| Sorry to keep you all waiting! Now let's cook some meat! | AG members gather up, searching for cooked meat... We've still got a whole lot more where that came from! | |
| | | |
| --- | --- | --- |
| Be nice and share, you guys! | We made yakisoba noodles this year too. This senior employee just can't bear to watch one of his juniors struggle to make yakisoba for the first time... | |
| | | |
| --- | --- | --- |
| Now here's a guy who knows how to enjoy his meat!♪ | Meat tastes so goooooood! | |
As we started to get low on meat, the committee brought out their special weapon!!
Every year we bring out a special ingredient for the BBQ...
And this year, it's OSTRICH MEAT!
| | | |
| --- | --- | --- |
| As soon as everyone heard about the ostrich meat, it was on the grill! C'mon everyone, you don't need to rush it! | And we made sure to cook some vegetables along with the meat! | |
| | | |
| --- | --- | --- |
| Executive Director Kakuwa made some yakisoba on his own and handed it out to the others. It was great to see the veterans mix in with the new people and have a good time! | He's enjoying the rare delicacy of ostrich meat! | |
We also made sure to take a group picture before the sun set!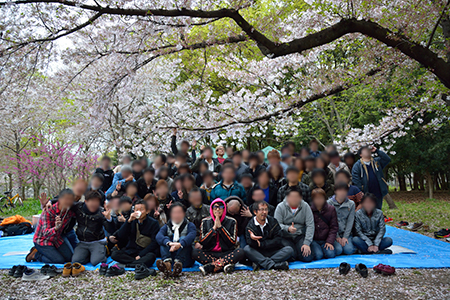 The AG gang making funny faces with the cherry blossoms in the background!
Say cheese! After taking the group picture, we had finally reached the last stage of the BBQ. Which means that it was finally time for dessert!
And this year's dessert is... MARSHMALLOWS!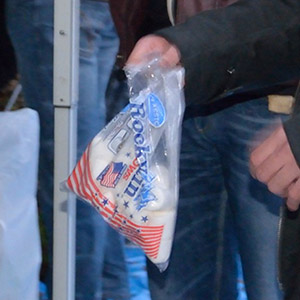 We didn't want people to complain about getting small marshmallows,
so we made sure to bring American sized BIG marshmallows too!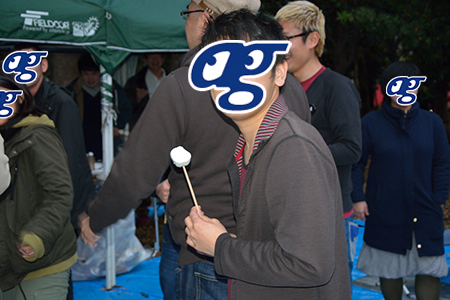 Cooked marshmallows? No no, we're not just going to cook them!

>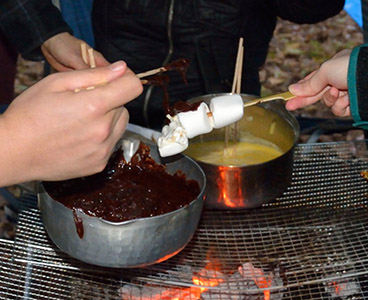 Chocolate on the left, and cheese on the right!
And so, we skewered a bunch of marshmallows and made ourselves some fondue!
And since it was dessert time, we also prepared some chocolate.
When you think of fondue, you of course think of cheese, so we brought some of that too!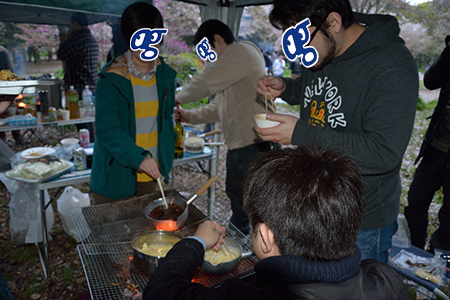 Some people even put some meat into the cheese... Hey, you're making me hungry again!
April 7, 2015 (Tues) 6 PM - Osaka Castle Park BBQ Zone - 2015 Hanami Ends

After enjoying all the food, and having a good time, the event finally came to an end.
Thanks to the passion of the AG gang, we didn't get any rain, and everyone became much better friends.
Then, our producer Tomita made a speech to close the event.
At the very end, we all clapped to signal the end to the event.
Thanks to all the great food and beautiful flowers, we all got energized by this great event!
We want to use this energy to give you all better games this year, so we're going to keep working our hardest!
See you at the next event!